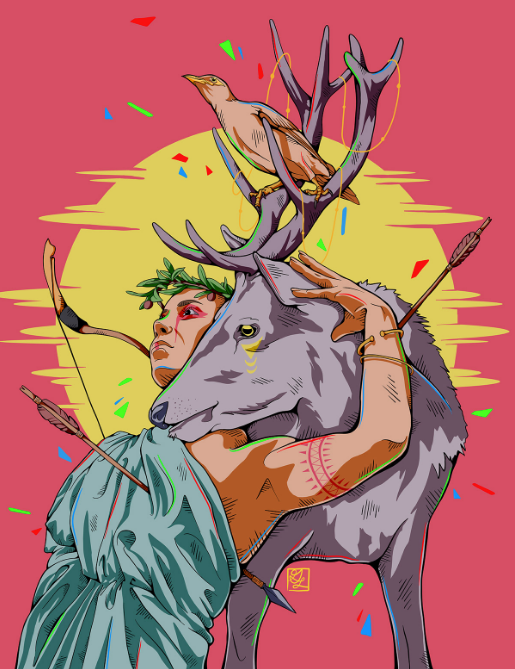 Each Month We Feature An Artist That Inspire Us.Name:   Garrett Landry
Location: Louisiana, USA
Medium of Choice: Digital Art
Social Media: Instagram: garrett.draws
Artstation: garrettlandry

 

Behance: 

garrettlandry
Questions
1. If you could meet any artist (past/present) who would it be? And why?
Egon Schiele, the Austrian painter who studied under Gustav Klimt, another one of my favorite artists. I've always liked the expressive poses and energy of his style, the way he utilizes large flat areas of color and neutral spaces to let the subject matter within the piece breathe. I really appreciate the use of strong, dynamic, and expressive line-work.
2. Did your childhood environment have any influence on your creativity?
I grew up in southern Louisiana, a place seeped in culture, music, food, and the arts.

From an early age I always liked to draw, and I was fascinated by cartoons. My parents were always supportive of my pursuit towards the arts. In college, I initially studied architecture, but then pursued a career in graphic design where I honed my skills in vector art, figure studies, and color theory.
3. What subjects inspire you?
I love medieval fantasy, science fiction, abstract, and surrealism. I've also always respected traditional animation, graphic novels, cell-shading, and line art. I like imagery that tells a story and allows the viewer to interpret a meaning in their own way. Combining subjects like the human form, wildlife and nature, into something new has always inspired me.
4. What does "being creative" mean to you?
Being creative, at least for me, is a means towards self-expression, and in that sense, it's hard to deny I create art for selfish reasons. I rarely sell my work or freelance. My personal art is my own way of expressing my inner feelings. It's a form of therapy for me. When I develop an idea and start a project, it's very therapeutic to know that I have full creative control and can express myself without limitations. At the end of the day my art belongs to me, and I do it for me.
5. Do you have any tips or inspiring words for others?
My tip is to experiment and ask questions. I urge artists to experiment with technology and digital art. There's a persistent theme that exists, where artists are expected to inspire others. No. The artist exists to express themselves upon the viewer. That is art.